On my last post when I asked what has contributed to your weight loss success, the most common answer was "our little weight loss support blog community." I couldn't agree more! I wouldn't have been successful without all of your support and friendship. It's been a rough past few weeks for me and I've gained 5 pounds, yes 5 pounds! I've been back on track since the new year, but I can tell it's going to be slow getting these 5 pounds back off, even though I have so much more to lose. Seriously I can easily gain a pound a day if I don't watch it. I don't know if it's because I have no thyroid or if it's just the way God made me, but weight loss for me takes a great deal of dedication and discipline. I could blame it on the holidays or the chocolate almond butter, but the truth is it's me standing in the way of my success. So I've returned to my mindset in the beginning, "I can do this today!" Being successful today is all I'm thinking about, even in the last few days this mindset has made all of the difference and I feel a momentum building as one healthy day leads to another. I've found the first day or 2 is really difficult, then after a few days it becomes so much easier, not to say this is easy, just easier. Thanks for your support! Y'all are awesome!
That's my big confession, phew! I feel so much better now. :)
On to What I Ate Wednesday... I recently purchased a Vitamix! Yea, so lots of smoothies lately and today was no different.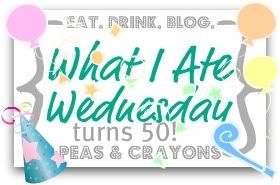 Breakfast on the go with one of these:
Lunch today was leftover Mexican Bean Soup, very delicious & easy. Did I mention cheap, as well. Since buying the Vitamix, I needed cheap:
Snack #1:
"before"
"after"
My youngest said, "eww it's brown! I don't like it." After convincing her to taste it, she loved it, finished hers, and wanted some of mine. The oldest didn't like it, which is typical.
Snack #2: a couple of cuties, well almost. My daughter stole my last half. :) I was really proud of myself for eating this snack because I wanted bread. And since I don't eat flour filled food in the evening and I would have added butter and probably honey, it was a huge victory for me to avoid it!
Dinner: (sorry no pic) Really delicious sauteed chicken breast tenders, green beans with slivered almonds, and steamed broccoli.
Dessert: New concoction, but really tasty
88% dark chocolate (1/3 of a bar), combined with stevia and almond milk. Since 88% chocolate is too bitter for my taste I added stevia to sweeten, but then I thought it needed some creaminess and since I limit dairy I added almond milk and it was delicious! Nuts would be awesome in this too! I just didn't add them because I'd already eaten nuts twice today in my smoothie and green beans. Definitely will eat this again. My healthy non-guilty pleasure!
Thanks for listening and thanks even more for the support. You guys rock!
Take care,
Cat's Belly Fat Cure Facebook Page