It's what I ate Wednesday. Love the party of at
Jenn's
! with all of the cool eats & pics. Who knows, you may even make a new friend or 2.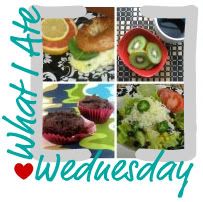 O.K. on with what I've been eating:
Breakfast:
(oats, Justin's Chocolate Almond Butter, pink lady apple, vanilla, stevia, coconut) This oatmeal was SO good!
Lunch:
(left over fruit from Christmas brunch, raw red bell pepper, steamed green beans, and Dr. McDougall's Black Bean Soup)
my kid's creation, "colorful unicorn" (they wanted me to include it)
Christmas Brunch:
(included in WIAW because the berries are so pretty :) My youngest ate mostly berries and nothing else.
Dinner: Chick-fil-a char-grilled chicken salad with honey mustard dressing
and
Too Much Snacking:
on this
Dear Chocolate Almond Butter,
I love you and our time spent together. It was some of the happiest times of my life, but I think I need to see other nut butters. Can we still be friends?
Love,
Cat
O.K., all kidding aside, I do think I need to abstain from nut butter for a while. I have not used great self control and moderation, so I'd rather just not have them because they're hindering my progress.
Not the greatest picture, a little fuzzy, but it captures the emotion and pride of accomplishing something difficult and worth achieving. Before I started this journey I was a size 16-18 or 1X in a shirt, yes a plus size. When I first tried this shirt on in the store, I tried on a large and it hung well below my bra. I just couldn't believe it because there was no way I was a medium! I haven't seen a medium for a decade, but I tried it on and it fit. I actually loved it so much, I ended up buying 3 satin blouses, all in a medium! I think I'll stay away from the mall for a while too ;).
My point is that giving up nut butter for a while to regain control is so worth the feeling in this picture. Giving up something so small and insignificant is so worth receiving something so much greater in return. I mean increased self confidence and a sexy blouse is so worth it!
Just think when those around you are indulging in something sinfully delicious and you're not, just think of all you will receive in return for just forgoing a few delicious bites.
"Don't trade what you want for what you want right now."
- Scot Ferrell
(I think I need to post this in my kitchen ;)
Tell me:
Do you have quotes posted in your living area to keep your focus on living a healthy lifestyle? If so, what are they? Please share.
Thanks for listening this evening. "Talking" with you really helps me stay in this healthy journey for the long haul. Sometimes I think I could revert back

in an instant

to my old ways, but I know I never will because I've gained so much from this lifestyle that I'll never go back. It's not just about looking better, it's about feeling better, increased self confidence, a better role model for my children and so much more. I just want to improve myself everyday and help others do the same. It really feels amazing!
Take care,
Cat's Belly Fat Cure Facebook Page