My life has been so crazy busy!!!! I love to be busy, so it's all good! I had to go to Warrenton today for a private sale, fun, fun. Actually it was fun, I love meeting and talking with people! Now it's par-tay time, over at
Peas and Crayons
, otherwise known as What I Ate Wednesday.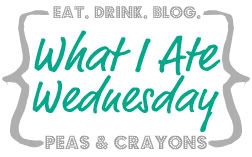 Let the party begin....
Breakfast: Oatmeal (gluten free oats, Justin's Maple Almond Butter, chia, maple syrup, bananas) and turkey bacon (nitrate free)
Lunch: Smithfield's Brunswick stew
Our snacks today: my daughter packed these. Good to know I've raised her right ;)
Dinner: Taco Soup chili (recipe below) and romaine with Italian dressing
Taco Soup Chili Recipe
-Brown 1 pound of hamburger (may use ground turkey or chicken) and drain grease.
-Add:
1 can corn (partially drained)
2 cans pinto beans
1 can tomato sauce
1 can of diced tomatoes
1 package of taco seasoning (look for one with no MSG. I used about 3 tablespoons of taco seasoning found in the spice section of the grocery store.)
1 tablespoon chili powder
-Heat thoroughly
optional: (I haven't been adding these things to make it healthier, but they are very tasty)
Top with grated cheese, sour cream, onions, olives, brown sugar, etc. and serve with corn bread or corn chips.
Let me know what you think of the recipe. My family thinks it's super yummy!
Goodnight. See ya tomorrow.
Cat's Belly Fat Cure Facebook Page