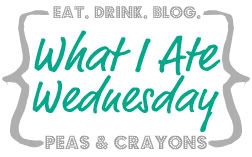 If you like fabulous food, pics, and recipes from other bloggers, check out
Peas and Crayons
.
Breakfast:
Super yum oatmeal: gf oats, fuji apple, Justin's maple almond butta, Sun Crystals, Garden of Life Super Seed. Delicious.


Lunch:
+ PLUS+
= TRUE LOVE
Really. These two together in a sandwich = happy me. I usually pair it with an apple or raw carrots. Chocolate almond butter sandwich - That's whats for lunch!
Dinner: Glazed sesame pork with green beans
Sprinkle 1/4 teaspoon salt and pepper over both sides of 5 center cut pork chops.
Heat 2 tsp. dark sesame oil in large skillet over medium heat.
Add pork and cook 3 minutes on each side or until browned.
Mix:
1/4 tsp. salt
1 c. low sodium chicken broth
2 Tbsp. sesame seeds, toasted (I didn't have time to toast them)
1 Tbsp. brown sugar
2 Tbsp. red wine vinegar
1 Tbsp. Dijon mustard
Add to the pork chops.
Cover. Reduce heat and simmer an additional 20 minutes or until tender. Serve pork with sauce.
Voila! Dinner is served.
These pork chops are really delicious, excellent flavor, salty & sweet. Love meat with a little bit of sweet.
Even my 4 year old loved them:
My 8 year old wanted to act like she loved them. She wasn't interested in trying them. Just wanted her picture taken ;).
and dessert, gluten free, milk free chocolate chip cookie!
I spoke a little of my weight loss secrets in the
last post
. I mentioned developing a nutrition plan that resonates with your belief system, well this is a glimpse into mine. Sometimes I vary it depending on the goals I need to obtain for the week, but this day is a good snapshot of a typical day, well minus the cookie. Ideally I add treats about twice a week I concentrate on eating real food and minimizing junk. I try to balance carbs for the day by allowing high carb meals in the beginning to middle of the day if I like. However, by mid-afternoon to evening I minimize starch greatly and eat nothing after dinner, even if I'm hungry. I believe we don't need heavy carb meals at night and more protein helps to keep me full longer, so I can avoid snacking at night. I firmly believe most of my weight loss is due to how I eat in the evenings, which is so different from how I used to eat. Heavy nighttime snacking consumed me, resulting in an extra 500-1000 calories consumed after dinner 4 to 5 times per week. I would become stressed, anxious and run to food for comfort. That's not me anymore and I'm not going back!
The secret to remaining joyful eating this way, when others around you are eating a more stimulating unhealthy diet, is to remain content. If dining out and your friend is eating a slice of cake the size of your head, don't whine and think why can't I eat that or I'm so miserable, why can they eat cake & I can't. Instead remain content. Just think of your goals and how skipping this dessert will place you that much closer to them. Doesn't that feel better than that slice of cake!
Philippians 4:11
11
I am not saying this because I am in need, for I have learned to be content whatever the circumstances.
Oh, I almost forgot weigh in numbers for the week! I lost 3 pounds! Now I'm only 3 pounds away from reaching my 40 day challenge weight loss goal by my birthday, November 20th! I'm not going to accept failure.
Take care everyone and make it a healthy day.
P.S. Make sure to check out the new Cat's Belly Fat Cure Facebook page. Link to the right ->