My life has been a little or maybe a lot CAH-razy running back and forth to Warrenton, managing our household, working out and caring for my silly kiddos. I just have to make time for
What I Ate Wednesday
; it's just the best! I love making the post, and gathering inspiration from everyone else!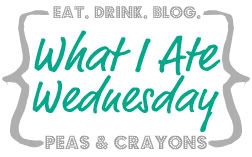 silly kiddos ;)


Super Yummy! breakfast on the run. I've tried several flavors, but this one is my fave so far!
Normally I pack my lunch, but I didn't today. Didn't have time to eat until about 3:30, so I stopped by the local Hardees' and grabbed tea and chicken fingers. Not the healthiest lunch, but at this fast food stop it could've been so much worse!
Super Simple Dinner: baked chicken and broccoli with butter.
Now for the best part of the day, what I DID NOT eat. It feels fabulous NOT eating unhealthy food, very empowering indeed. I stopped in a convenience store to purchase the local paper and look what I found:


I've learned when I don't eat good balanced nutrition I'll crave refined, fluffy, fat laden food!
I'm working in Warrenton again on Friday and won't get a lunch break, so I'm going to make sure to pack a nutritious lunch. Lately I'm finding junk food and late night eating creeping back into my life on a regular basis. I can't continue along this path and expect to achieve my goals, so I've decided for the next 14 days to forgo junk food and late night eating.
Well that's my crazy life. No workout today, but I'm meeting with my trainer in the morning.
Tell me:
What unhealthy food or habit is creeping back into your life? Are you ready to correct it?
O.K. everybody, since I'm starting a
No Junk Food And No Late Night Eating Challenge
, I thought I'd opened it up to you as well. It will make it easier and fun to do together. Just think how clear and radiant your skin will look at that holiday party or how great you'll look in your little black dress! Who's with me?
Goodnight friends.
~Cat
Cat's Belly Fat Cure Facebook page